New Formalism
Background
New Formalism--also known as "Expansive" poetry--is a poetic movement which emerged in the mid-1980s. It began in response to the prevalent viewpoint that free verse and confessional poetry should be the exclusive domain of modern poets, and that structured verse is entirely contrived, elitist, and right-wing.
It is widely acknowledged that Dana Gioia's 1987 article "Notes on the New Formalism" both coined the term "New Formalist" for the developing school of poets and also outlined the idea behind the movement. Gioia's argument is that meter is part of an ancient aural tradition. Sound is also of paramount importance to free verse, but it is additionally dependent upon the written word and visual representation of language upon the page in a way that structured verse is not: this, to Gioia, is the only difference between these varieties of written work. It is safe to say that not all free verse writers are radical, and not all composers of formal verse are conservative. Meter does not have a political agenda, as the word "meter" is a descriptive term, not an evaluative one.
The most problematic element of the New Formalist movement is that it does not change the general understanding of poetry in any significant way. Gioia's article serves to refute commonly held assumptions about structured verse which were, in the first place, easily to debunk. Much of the critical response to the movement since the publication of Gioia's article has been about the viability of a school of poetry which advocates a return to a form of writing that has gone out of style, but has certainly not been abandoned in its entirety.
The validity of the poetry and scholarship itself is not in question, but its chosen designation as "New" Formalism is, by critics of the movement such as Robert Phillips and David Caplan, considered dubious. A blanket term, "Expansive Poetry," was created by the poet Wade Newman to describe both New Formalism and New Narrative, a school of writing that emerged at around the same time in the 1980s. The relationship between New Narrative, a school that emphasizes the importance of hearing the voices of gay and lesbian writers, is questionably connected to the New Formalists at best, considering their emphasis on structure rather than voice.
West Chester University Poetry Conference[1]
R.S. Gwynn, Michael Peisch, and Gerry Cambridge at the West Chester University Poetry Conference, 2010

Dana Gioia and Michael Peich co-founded the West Chester Poetry Conference in 1995. The conference features a mixture of discussion panels and poetry workshops, with an emphasis on discussing the direction of poetry and the importance of form and structured verse to poetic education. It is currently the largest poetry conference of its kind in the United States. The conference faculty, Gioia especially, emphasize that the conference does not discriminate against confessional or free verse poetry, since Gioia himself writes in free verse. The WCPC exists in its current format--with an emphasis on the formal--in order to compensate for the current prevalence of less structured verse in modern American poetry. Previous faculty include Timothy Steele, Mark Jarman, R.S. Gwynn, Wendy Cope, and Anthony Hecht. This year's keynote speaker was Rhina Espaillat: her speech can be found below.
The New Formalist[2]
The New Formalist is a literary journal and press that has emerged out of the movement, interested in bringing recognition to poets who work predominantly in structured verse. The journal is edited by Leo Yankevich[3], an American poet known for his formal poetry as well as his translations.
Mezzo Cammin[4]
Much like The New Formalist, Mezzo Cammin is a literary journal that publishes formal poetry. It exclusively publishes poetry by women writers working in form. In addition to exposing audiences to the verse of modern women, Mezzo Cammin is working on something called Women Poets Timeline Project[5], with the goal of one day being the largest collection of the work of women poets in the world. Mezzo Cammin is edited by Kim Bridgford, who also serves as the director of the West Chester University Poetry Center.
Major Players
Dana Gioia[6] (b. 1950, Los Angeles, CA)
Received his M.A. in Comparative Literature from Harvard where he studied under poets Robert Fitzgerald and Elizabeth Bishop. After completing his degree he moved to New York where he was a businessman for many years. He eventually left the business world to pursue writing full-time. His poetry and criticism has won The American Book Award, and a finalist prize for the National Book Critics Award in Criticism, and has led to publications in The New Yorker, The New York Times Book Review, The Hudson Review, and many others. He is currently the appointed chairman for the National Endowment of the Arts.
Publications:
• Interrogations at Noon (Graywolf, 2001)
• The Gods of Winter (Graywolf, 1991)
• Daily Horoscope (Graywolf, 1986)
• Can Poetry Matter?: Essays on Poetry and American Culture (Graywolf, 1992)
Today, Gioia is known for his remarks urging critics to bluntly care about the poetry they review—and not care for the poet's feelings. He argues that MFA programs, careerist poets, and the publication of unpolished poetry are the heart of the downfall of good poetry today. Gioia's own poetry has been found in a space between "new formalism" and not. This class has been genred as "Low Formalism" as opposed to poets such as Gjertrude Schnackenber who are of "High Formalism." Gioia's poetry—which is both free verse and formal—has been testified as a "versatility in form that is proportionate to the depth of what they have to say" (Clausen). Some critics go on to say that Gioia's success is based upon his shunning the status of university poet, saving his inspiration for influences outside the realm of academia.
X. J. Kennedy[7] (b. 1929, Dover, NJ)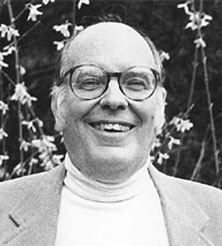 Received his M.A. from Columbia University, he went on to be an enlisted journalist for the United States Navy's Atlantic Fleet for four years. From 1955-1956 he studied in Paris' Sorbonne. His poetry has led to his receiving a Guggenheim Fellowship[8], a National Endowment for the Arts[9], and a Los Angeles Times Book Prize. Kennedy has been a professor at numerous universities including University of California at Irvine and North Carolina (Greensboro). His poetry has been published in The Paris Review, The New Yorker, Poetry, and The Hudson Review. Kennedy is also involved with publishing anthologies and, along with his wife, children's literature.
Publications:
• Nude Descending a Staircase: Poems, Songs, a Ballad (Doubleday, 1961)
• Growing into Love (Doubleday, 1969)
• Dark Horse: New Poems (John Hopkins University Press, 1992)
• The Lords of Misrule: Poems (Johns Hopkins University Press, 2002)
• Others
Kennedy's work has been dubbed 'light verse.' Though having been raised in the poetic generation of Sylvia Plath, Anne Sexton, and Robert Lowell, Kennedy has reacted against his contemporaries, straying away from their edginess and instead employing wit as his weapon of choice. The New York Times Book Review goes on to declare Kennedy as "a practitioner of light verse...he serves his light verse with a healthy dose of darkness" (Jarman). Kennedy's 'light' poetry, and more prominently his children's poetry, is what he is remembered best for, yet his determination to stay away from dark confessional matter is what sets him apart from many of his contemporaries.
Gjertrud Schnackenberg[10](1953, Tacoma, Washington)
Schnackenberg attended Mount Holyoke College in 1975, and went on to teach at the Massachusetts Institue of Technology, Washington University, and St. Catherine's College, Oxford, and was a writer-in-residence at Smith College. She has received the Rome Prize in Creative Writing Literature from American Academy in Rome and the Berlin Prize, as well as a National Endowment for the Arts, a Guggenheim grant, and an LA Times Book Prize in Poetry, among other awards. She now travels globally reading and teaching her poetry. She has been published in Poetry Magazine numerous times.
Publications:
• Supernatural Love: Poems 1976-2000 (Bloodaxe Books, UK. 2001)
• The Throne of Labdacus (Farrar, Straus and Giroux. 2000)
• Supernatural Love: Poems 1976-1992 (Farrar, Straus and Giroux. 2000)
• A Gilded Lapse of Time (Farrar, Straus and Giroux. 1992)
• The Lamplit Answer (Farrar Straus & Giroux. 1985)
• Portraits and Elegies (D.R. Godine. 1982)
Schnackenberg is most notable for her strict pentameter verse and her divine wrestling with historical and even mythical subject matter. She is most noted for her allegorical epics that allude to Dante, Sleeping Beauty, Repunzel, and others. Many critics easily pick out her verse as opposed to those of her contemporaries due to the musical sound quality within her lyrics.

Press the play button to listen to a reading of Schnackenberg's poem, "The Paperweight[11]."
Timeline
Timeline of Poetic Movements Leading to New Formalism
Like any other living branch of the arts, poetry undergoes cyclic movement and innovation. According to Richard Gray, the tradition of American poetry is a tradition of the new, a tradition of radical experiment (15). Each movement is in part a reaction to the dominant movement or trend. It follows, then, that each new wave inevitably contains bits and pieces of what it is trying to wash away. New Formalism, with its allegiance to rhyme and meter, is a backlash against unstructured poetry, yet it borrows the colloquial voice from free verse. Just in the last half of the twentieth century, many movements have washed over poetry:
Black Mountain—1940s and 1950s
Beat poets—1950s
Confessional poetry—mid-1950s and 1960s
New York school—mid-1950s and 1960s
The Black Arts—mid-1960s
Language poetry—late 1960s, early 1970s
When New Formalism emerged in the 1980s, it was a reaction against free verse, which had been penetrating American poetry since the nineteenth century. Although thirty years lay between the Beat poets and the New Formalists, the Beats were the most flamboyant torch-bearer for the free verse tradition.
Here is a snippet from "Howl," by leading Beat poet Allen Ginsberg: ".../who barreled down the highways of the past journeying/to each other's hotrod-Golgotha jail-solitude watch or Birmingham jazz incarnation,/" (17).
Expressing New Formalist disdain for this style, X J Kennedy deploys rhyming quatrains in his poem "For Allen Ginsberg." Kennedy writes, "Finger-cymbaled, chanting Om/Foe of fascist, bane of bomb/Proper poets' thorn-in-side/Turner of a whole time's tide/."
Referring in this stanza to "proper" poets, Kennedy reveals the New Formalists' belief that their style is more "intellectually rigorous and technically proficient" (Gioia, 903).
New Formalism also closed ranks against the navel-gazing Confessional poets such as Sylvia Plath and Robert Lowell. Vernon L. Shetley argues that New Formalists styled themselves as "antidotes to the imprisonment of American poetry within a poetics of the private self." By restoring traditional form and meter, New Formalists hoped to counteract a "focus on personality" (136).
Critical Reception
The Critical Debate
Arguably as important as the poetry itself is the critical debate sparked by the New Formalist movement. Critical texts and essays by Timothy Steele, Frederick Feirstein, Kevin Walzer, R.S. Gwynn, and others, which fervently promote the importance of rhyme, meter and other formal elements as a means of reclaiming poetic value and which condemn the exclusivity and failings of the dominant poetic modes at that time, were met with harsh criticism from proponents of free verse. What ensued was not just an attack on the quality of New Formalist poetry, but an ideological debate which focused on the validity of claims made by self-proclaimed "expansive poets" against free-verse and in favor of a return to traditional forms. The poetry itself was criticized for compromising substance and insight in a narrow focus on formal elements, heavy-handedness, fear of intimacy and generally evading emotion so as not to risk sounding "confessional," in addition to being conservative, "safe" or unadventurous⁷. The strongest and most frequent argument made by the movement's adversaries was, and continues to be, that for a movement so quick to denounce or simply ignore the successes of contemporary free verse, the formal poetry born of this movement lacked, despite whatever technical ability, the quality and substance necessary to successfully meet their own goals and remain credible³.
Additionally, critics of the ideology and principles fueling New Formalism/Expansive Poetry/neo-formalism incited a debate on the movement's political implications.⁶ Notable critiques of the movement are given by Diane Wakoski, Robert McPhillips, Wayne Dodd, Ira Sadoff, Thomas B. Byers, H. T. Kirby-Smith, Ariel Dawson, Vernon Shetley and John Haines. These particular critics, some more sympathetic than others to the argument that formal poetry had become marginalized by academic exclusivity which only acknowledges "open forms,"¹ ² question the merit of a body of work whose advocates seemingly employ a "marketing campaign" and rely heavily on propaganda and self-promotion rather than the movement's texts themselves.³ ⁴ Wakoski goes so far as to label the movement "un-American," in spite of its aims to "democraticize" poetry by recapturing a lost audience², because it does not appropriately value free verse as the contemporary American voice and equates "traditional" literary forms with "conservative" politics.⁶ ¹ Dodd, as well, finds the "reactionary zeal" and "intolerance" of the New Formalists to be potentially dangerous for contemporary poetry ⁵, while Dawson, in her article "The Yuppie Poet," attacks New Formalism for its pursuit of perfection and "resurrection of elitist tradition."⁶ However, McPhillips, one of the more balanced critics, suggests that the biggest flaw in arguments made by the opponents of New Formalism is the resistance to criticism grounded in the poems themselves. He argues that dismissing New Formalists ideologically circumvents the need for an in-depth, formal analysis of the actual texts which might yield evidence in their favor.⁶ The significance of the movement is also challenged by an argument which discredits neo-formalism as merely a temporary, reactionary revival of tradition situated in the larger context of a shift away from formal poetry.⁴ However, to this, some critics respond that perhaps the importance of the New Formalist/Expansive Poetry movement lay simply in the complex critical discourse it has provided.¹
Works Cited
1. Byers, Thomas B. "The Closing of the American Line: Expansive Poetry and Ideology." Contemporary Literature 33.2 (1992): 396-415.
2. Gilbert, Roger. "Textured Information: Politics, Pleasure, and Poetry in the Eighties." Contemporary Literature 33.2 (1992): 243-274.
3. Haines, John. "Review: Formal Objections." The Hudson Review 43.2 (1990): 345-351.
4. Kirby-Smith, H.T. "Behind the Lines." Southern Review June 1999: 635-650.
5. Lake, Paul. "Toward a Liberal Poetics." Threepenny Review 8.4 (1988): 12-14.
6. McPhillips, Robert. "Reading the New Formalists." Sewanee Review 97 (1989): 73-96.
7. Sadoff, Ira. "Neo-Formalism: A Dangerous Nostalgia." American Poetry Review Jan.-Feb. 1990: 7-13.
New Formalist Poetry Examples

The book, "Rebel Angels" anthologizes the poetry of 25 contemporary New Formalists. It's also a brief source of biography and publications for each poet. The book attempts to span the variations of New Formalism including poems of very strict prosody with almost childlike rhyme scheme while working towards poems of a looser form. The introduction also acts as a small history of the 'movement' and its major players.
Here are several links to poems by authors associated with the New Formalist movement:
"Weighing In" by Rhina Espaillat[12]
"Maze Without a Minotaur" by Dana Gioia"[13]
"Fried Beauty" by R.S. Gwynn[14]
"Mythology" by Marilyn Hacker[15]
"Hippogriff" by X J Kennedy[16]
"Miniature" by Brad Leithauser[17]
"Taken Up" by Charles Martin[18]
"Chanson Philosophique" by Tim Steele[19]
"Love Calls Us to the Things of This World" by Richard Wilbur[20]
Works Cited
Clausen, Christopher. "Poetry formal and free." Sewanee Review 99.4 (1991): 506. Academic Search Complete. EBSCO. Web. 21 Oct. 2010. Ginsberg, Allen. Howl and Other Poems. San Francisco: City Lights Books, 1993.
Gioia, Dana. "Notes on the New Formalism." The Hudson Review Vol. 40, No. 3 (Autum 1987): pp. 395-408.
Gioia, Dana, David Mason and Meg Schoerke, eds. Twentieth Century American Poetry. New York: McGraw-Hill, 2004.
"Glossary Terms." Poetry Foundation. Ed. Catherine Halley. 2010. 4 Nov. 2010 <http://www.poetryfoundation.org/learning/glossary-term.html>.
Glück, Robert. "Long Note on New Narrative." Biting the Error: Writers Explore Narrative. Ed. Mary Burger et al. Toronto: Couch House Books, 2004.
Gray, Richard. American Poetry of the Twentieth Century. Essex, England: Longman Group UK Limited, 1990.
Jarman, Mark. "On Edginess." Hudson Review 61.1 (2008): 211-219. Academic Search Complete. EBSCO. Web. 23 Oct. 2010.
Kennedy, X J (Joseph Kennedy). "For Allen Ginsberg." Poetry Foundation. Ed. Catherine Halley. 2010. 4 Nov. 2010 <http://www.poetryfoundation.org/archive/poem.html?id=29435>.
Philips, Robert. "Assessing the New Formalism (So-Called)". The Hudson Review Vol. 50, No. 1 (Spring, 1997): pp. 147-153.
Shapiro, Alan. "The New Formalism." Critical Inquiry Vol. 14, No. 1 (Autumn, 1987): pp. 200-213.
Shetley, Vernon Lionel. After the Death of Poetry: Poetry and Audience in Contemporary America. Durham: Duke University Press, 1993.
Romano, Carlin. "A Poetry Conference that Aims for Balance." The Philadelphia Inquirer Magazine: June 12, 2001. Nov 02, 2010 <http://www.wcupa.edu/_ACADEMICS/SCH_CAS/POETRY/Poetry_Conference/phillymag.asp>.
Wilbur, Richard. The Things of This World. New York: Harcourt Brace, 1956.
Wheeler, Kip. Composition and Literature. Course home page. 30 Sept. 2010. Dept. of English, Carson-Newman College. 5 Nov. 2010 <http://web.cn.edu/kwheeler/lit_terms_F.html>.
source: http://umwblogs.org/wiki/index.php?title=New_Formalism_Wiki